Greens
Driving across town for the final installment of Christmas with my in-laws in Lakewood, we were all impressed with the appearance of the lake. The sky was a bright, milky mix of white and blue, but the water was a great expanse of shivering green. Grey-green, sage-green, sea-green, the green of lichen edging into moss on the dark side of a tree in a damp, cool forest. You might like to have a lover with eyes this color of green. The green was topped with a million tiny cuts of white as the cold swirled in from the northwest.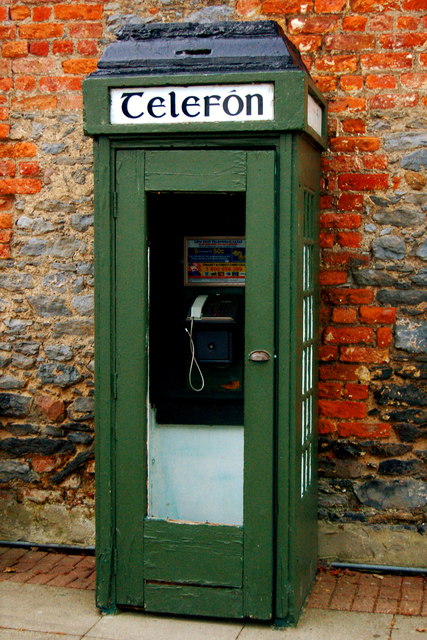 Here is a picture of an Irish phone box that has nothing
to do with anything, except the color is sort of right.*
On a side note, one of my great joys is that my kids have such big, varied families. My parents are so much different than David's, and yet both are terrific grandparents to have, especially in combination. When we got to Lakewood, O gave me a big hug and whispered to me, "You know why I like to come here? Because whenever I walk in this house I feel happy."
Bring on the polar vortex.
Reading:
Books I got for Christmas:
Everything I Never Told You
by Celeste Ng
The History of Rock-n-Roll in 10 Songs
(inscribed to me) by Greil Marcus
The Republic of Imagination
by Afar Nafizi
Also, bonus gift: I gave my mom a copy of
The Paying Guests
by Sarah Waters, because I love Sarah Waters, but she had already read it, so now I have it!
I love getting books as gifts, but often people don't get them for me because they assume I have them already. Know now: if you are ever inspired to get me a book, go ahead and risk it.
Writing:
Dinner:
Latest pressure cooker experiment: Rice! Oh, and it is good, and yea, it is fast.
Topped with salmon and a combo of red kale and collard greens (recipe called for broccoli raab, but there was none at the store) braised with anchovies, onions, garlic, pine nuts, and raisins. The salmon was poached on top of the greens at the end of cooking. (From the small but mighty
On Rice
cookbook by Rick Rodgers.)
Might I say, I nailed that salmon?
Soundtrack:
Sondheim. Particularly Z singing with great verve "Giants in the Sky" from
Into the Woods
. (Last night I dreamt the song was "Lions in the Sky.") But also, cast recordings of
Company
and
West Side Story
.
Random thing:
My orange dog-cat has stopped liking to walk on a leash. He has done so for three and a half years, since he was a kitten (or is it four and a half?). He still comes bounding when I say the word "leash," but immediately runs back to the door when we go outside. He and O had a collision when they were out running in the fall, and I think it rattled him. Or maybe it is just the cold. I hope he gets over it. (He does still like to sit on my shoulder, thankfully, which has been doing most of the time I have been typing this.)
*Photo credit:

© Copyright
Joseph Mischyshyn
and licensed for reuse under this
Creative Commons Licence
Also, apologies for the lack of linkie-loos in this post. Time presses.