Imagine a Pen ...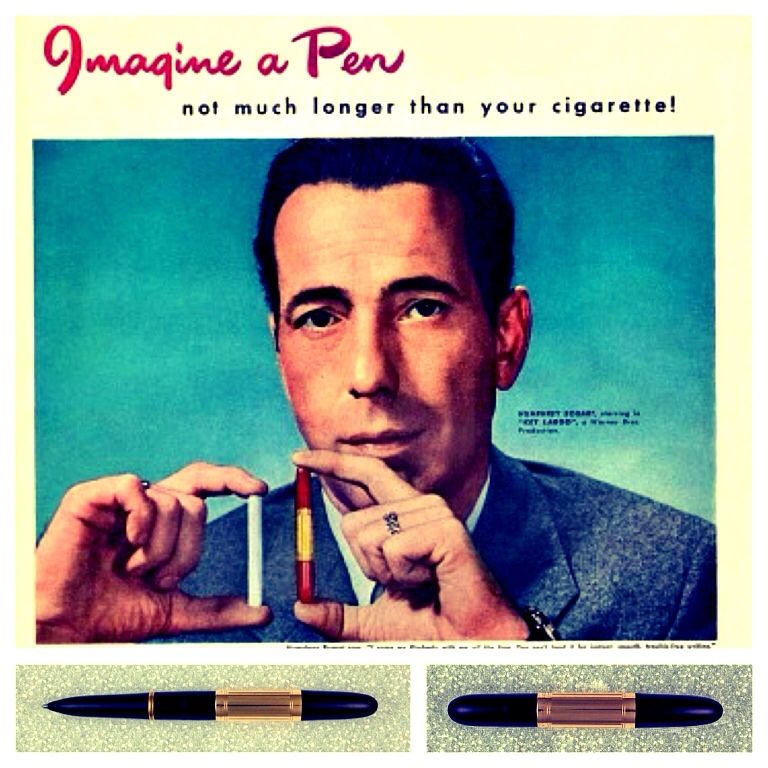 A litle Bogart to brighten your day. I searched for images for "tired pen,"
and this came up (like, about 20th, but it did ). Serendipity at work!
The second day of conference, third full day in Seattle. Fatigue and the ongoing effects of jetlag consume me. I went to one really great session today - on using the journal as a major assignment in the writing class. The panelists were all smart, thoughtful, funny people with great, practical anecdotes and advice. I felt glad to have met them on a human level and also full of ideas for how to continue to improve the use of journals in my teaching.
The other things I went to were OK, but nothing
stuck.
One panel I even walked out on because I was too tired to participate in the way they were hoping people would. (My apologies to the participatory teaching gods, whose goodwill I need in my own classroom.) In the morning, the best part of one panel was sitting with Huda and Laura, two women who are former students of mine from my MFA teaching practicum. They've both gone on to some success as writers since, but there we all were in the session on sustaining writing in the face of non-success. I guess what was heartening was the degree to which the panel's perfectly fine advice felt irrelevent to me.
By the end of the day, I bagged on all the possibilities for sociability for the evening, including going out with Huda and Laura, which would have been a wonderful thing to do normally. I had no room to absorb more and nothing to offer, so I holed myself up in my room with wine from the market, dinner from room service, and my own tired self. This was a good and self-protective thing to do. The room service guy asked me how my evening was, and when I told him it was very relaxing, he said, "That's great! All the people getting room service say they are relaxed and all the people down in the restaurant are getting wild." I told him that sound just about perfect.
Reading:
In this glut of language I resist reading, but I want story, so I netflixed
Orange is the New Black.
Honestly, I simultaneously thing Jenji Kohan is a fucking narrative genius and I am exhausted and feel manipulated by her plotting.
Writing:
Feeling hard the disconnect between so much talking about writing (and teaching) and the actual act of writing, or even for that matter the act of reading. This no doubt contributes to my fatigue.
Dinner:
I'm beginning to wish for my own kitchen. But tonight I had a decent meal of farro spaghetti with wild mushrooms.
Corvid Sightings:
A crow in alley as I walked from lunch back to the convention center. It held something in its claw would bend to peck at it then stand upright and look around. Every part of it gleamed with different density - its feathers shone gently, its beak glowed like lacquer, its eye was a tiny point of black light.
Soundtrack:
There's a guy on the street here who plays makeshift drums on the corner. He sits on something that looks like a big popcorn tin and has a variety of cymbals, bells, and metal objects arrayed in front of him. He plays the tin drum with one hand and uses a drumstick in his other hand to beat out rhythms on the objects. He is awesome. I was on the phone with Z&O when I passed him and stopped to hold out the phone and let the kids hear him. When I put money in his tin, I was sure to tell him that my young drummer was impressed. I love street musicians.
Random thing:
In the back of every room here there is a futuristic water dispenser that I did not notice until I sat on the floor at the back so I could plug in my ipad and had to constantly shift myself so people could fill their bottles. My conclusion is that most of these writers are better hydrated than I.